Halfpea Gallery
The picture shows Little Ellie (my version of 'Halfpea') at Holy Island in Northumberland, in September '08. She performed brilliantly!
Best wishes
Alan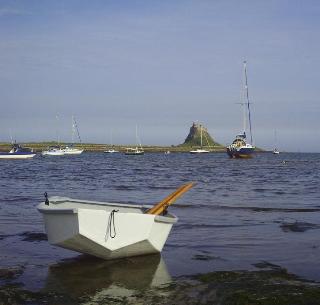 ---
I wold like to thank you for the free plans, you rock....
I build the halfpea in a one weekend for my daugther.... was a surprise, the stability is great. I used one sheet of common plywood 4mm and the bottom of hull is fully fiberglassed
I attached some pictures for you enjoy, Thanks a LOT for the free plans
Jefferson
Guayaquil-Ecuador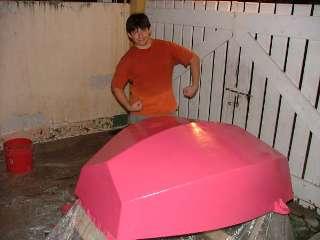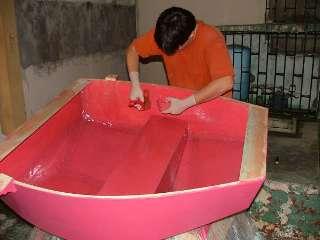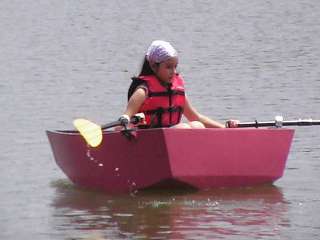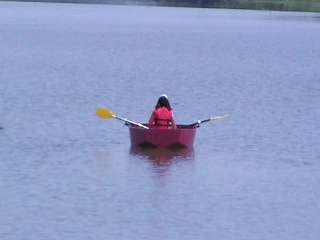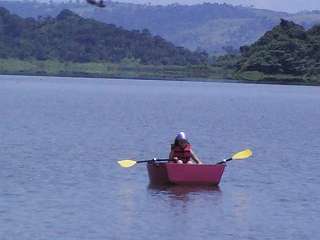 ---
Many thanks for a wonderful site with lots of terrific boat designs!

I'm attaching a pic of my new dinghy -- as yet un-named -- during her 'sea trails'. I plan to use her as a tender to get out to my biggest boat on her mooring. I chose Halfpea as I wanted something ultra-light that I could lift single-handed onto the car's roof rack.

The trials went just fine. She's remarkably stable, as you observed, and very, very responsive under oar power! She's the first boat I've ever built. The colours are a bit hard to see, but she's grey inside and white outside.

Best wishes

Alan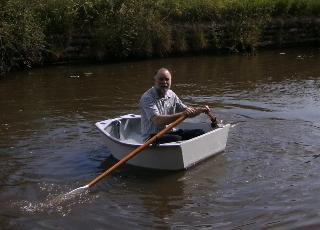 ---
Thank you so much for inspiring me to build my first boat - half pea. I made 2 changes:
1. All plywood 4mm including transom and seat. As a result the seat top needed ribs but the transoms were definitely strong enough.
2. Inlaid the gussets in each corner to achieve a smooth gunwale surface.

4mm marine ply stitched together with cable ties (sides 3mm corners 5 mm ties).
Epoxy laminating resin for all joints and waterproofing all surfaces.
Hollow glass micro balloons to thicken the epoxy for use as bog.
50mm fiberglass tape on the inside of all seams.
Norglass, one part, polyurethane enamel paint, 4 coats.
Nylon oarlocks and 6'n a half foot wooden oars.
Wood 8kg + epoxy 1kg + paint 1kg = 10kg.

I use it as a tender for my 5m power boat when I camp onshore and the boat is moored 200m offshore, and as a result, I have rowed it several kilometers already.

I find the center of gravity is low enough that I feel quite safe while rowing, although when climbing onto a vessel, I need to grab hold with 2 hands before standing up.

It is easy to carry (10kg 22lb + oars) with the oars inboard clasped together with one hand.

As you suggested the oars need to be tied to the locks. Rowing technique must be good to achieve a straight course, however this novice got the idea after an hour, my girls still do circles. I can't count how many times half pea has been photographed/laughed at/admired by fellow boaters.

best regards

Mark
Australia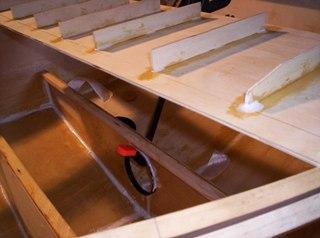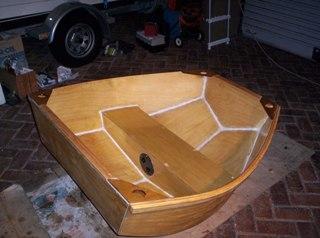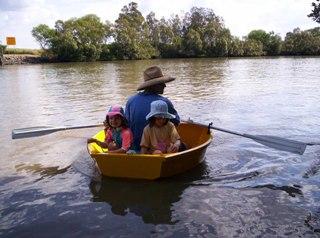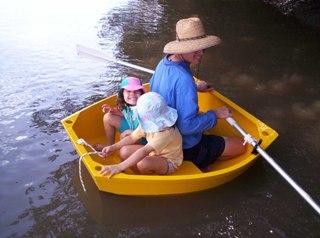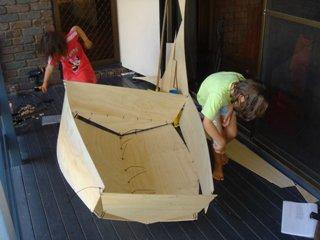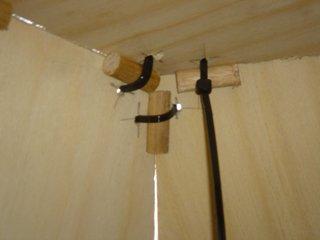 Top of the page.
Back to main page.
---