Little Sister Dory Gallery
Peter's Little Sister building blog here.
---
Can't begin to say how much I appreciate all your help, but you've been a fantastic resource and a great help in getting my first boat out the door and into the water. Two launchings now, in fresh and salt, with multiple passengers and configurations. My "Little Sister" is named Penelope. Photos of Penelope attached, all from first launching in Lake Padden, by Bellingham, WA.
Thanks again!
Regards,
Matt
PS: I took some liberties with the internal layout.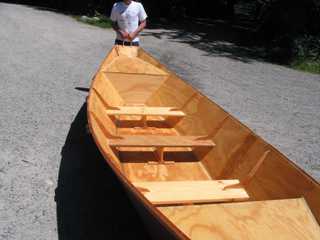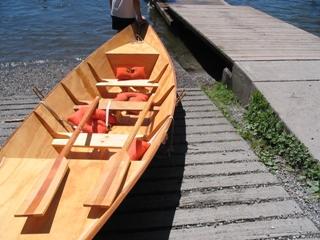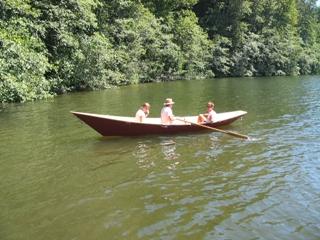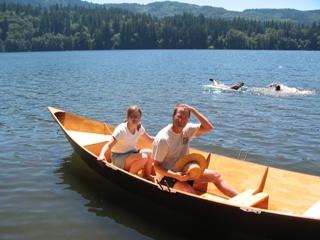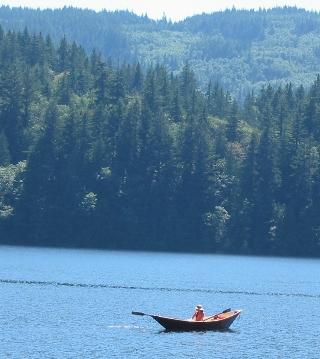 ---
Here's the start of the "Little Sister". You can see I didn't do it quite to the plans. I used plywood for the bottom and "stitch and glued" it. Yes it's a pain but I like the quality of boats I've gotten that way. I also used the taped seam butt splice. Ah, there's no boat shape as beautiful as a dory! I love it. We all know that the only shape on a boat that is better than that is not really the boat shape. It's on the "First Mate".
I think I put the front seat a little farther to the stern. I really was setting it up for my wife and I. That was the main goal so I figured with other people on board we would just work around those seat positions. It'll never be perfect for every load anyway. The two rowing positions you see weren't set to plans. The center seat doesn't work for a person rowing alone. Neither does the front seat. We have to have some ballast for rowing alone. That's not usually a problem because we have kids around to do that. I just have to sort them into the right places in the boat.
We have had about 550 lbs in her and she floats it fine. I rowed it the other day and put my daughter at the transom and her friend on the center seat to put weight in the back. It worked great. I nearly doubled the distance the D-4 and the Nutshell went with only one person on board each of them. I was the only one with oars in the "Little Sister". That's not a totally fair race because I am easily the strongest person that was in the boats. But the others have tried it and they all agree that it travels very well.
Here's the "Little Sister" at work. It's a little wobbly at first, scares everybody, but you get used to it and everything is fine. It's slick and it travels really well. As you can see we set it up for two rowers. Thanks for the design, we love it.
Evan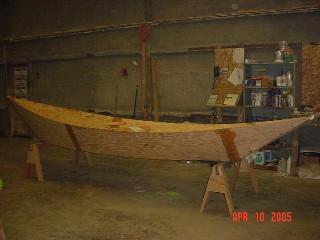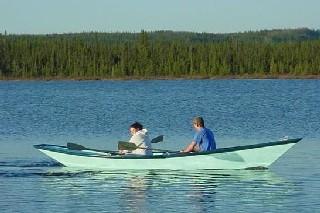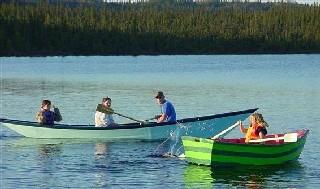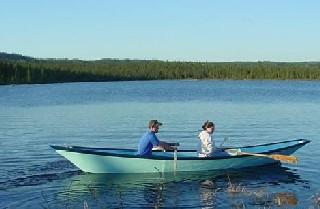 Top of the page.
Back to main page.
---