Prism Gallery
At least! TITANic makes it´s maiden voyage in the Caribbean
I´m Arturo from Chetumal, Mexico, hope you´re ok, and sending photos of my PRISM sailing in the Caribbean. Using my cousins as my "sinking dummies" ;-)
Also, the adress of my blog page: http://eltecoloteobservador.spaces.live.com (in Spanish)
Have a lot more Nice Days!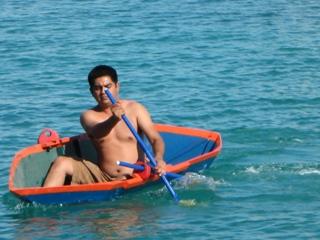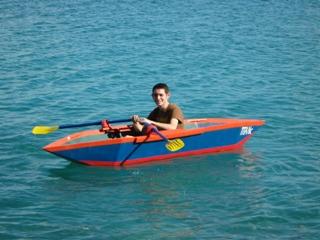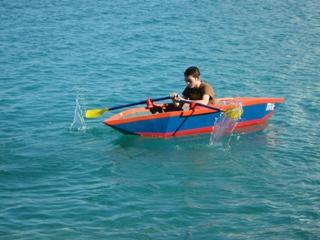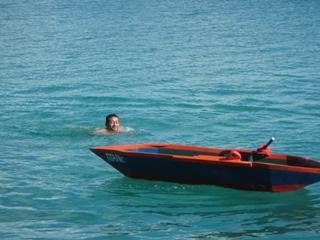 ---
I saw your Prism design on the svenson.com website and thought it would make a nice folding boat project. I made the bottom panel 24" wide and the sides 12". Used the triangles to lengthen the panels as your original design. I tapered only one side of the panels so the shear would be straight. I stitched the panels together with braided fishing line and covered the outside seams with 10 oz. cotton canvas fabric applied with house caulking. The caulking waterproofed the canvas. Used 1/4x1 1/4" pine strips for gunnels Painted her yellow with some leftover house paint. I made small fitted wooden blocks that are lashed in place to secure the ends and provide a hole for a painter. Use two spreader bars, one with a backrest to hold her open. She folds flat and weighs about 25 pounds. My wife took some pictures when we launched her and as you see BannaBoat floats nice and level and is stable. I use her for fishing in small lakes and ponds. We brought it to a messabout and it received many nice compliments. I told people where I got the idea for the shape.
Best regards,
Steve
Branford, CT USA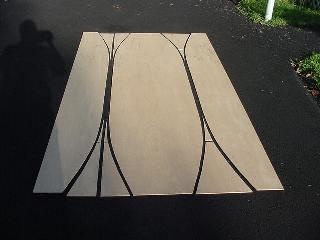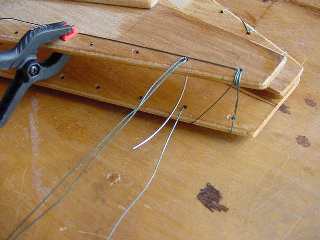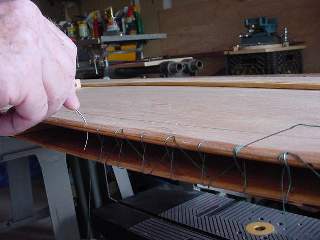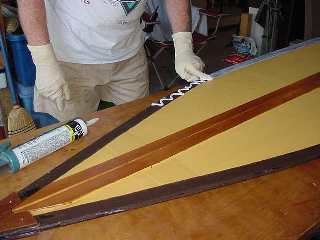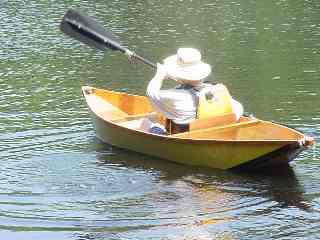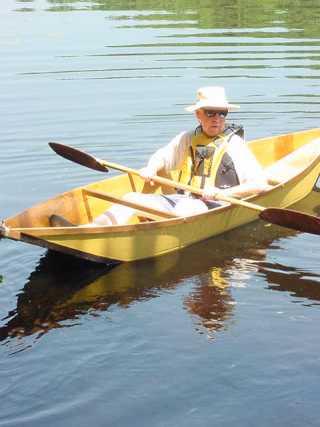 ---
We just finished your 13'4" prism kayak. We can't try it yet. The snow is just beginning to melt here in Alaska, USA. We should have some smaller lakes melted enough to try it by late May. It didn't turn out so much like a kayak as we had hoped. It seems too deep and maybe a little wide to use a double paddle. But we will enjoy it as a canoe I'm sure.
I'm sending along a couple of pictures and I'll try to send more when we get to launch her. On the other hand I guess we could put her on the lake now and then we'd be sure she didn't sink!
MayDay! We found a pond today that was open so We scrambled and built a boat rack for my little pick-up and went and tried out 5 of the little boats we've built this winter. Here's Marisa in the 13 foot prism kayak, with a "Nutshell" ( from bateau.com ) and an 8 foot canoe I sort of designed and built for my 5 and 11 year old daughters. You can see the snow is not quite all gone yet. The water is still a little cold but the kids didn't notice!
It seemed to paddle quite well. We didn't have a double paddle yet or we would have tried that! I didn't ride the prism but my boys, 12, 18, and 21 all did. They said it seemed quite wobbly but when you get a little used to it it's OK. And they said it was noticibly slicker and faster than the 16 ft "Nice Canoe" that we built. It seemed pretty nice and sleek to me. They enjoyed it.
Evan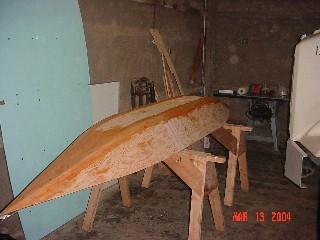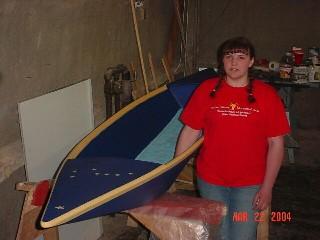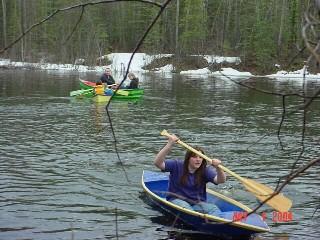 ---
I just thought I should tell you about a variation I am making of the prism. I noticed the other day in our shop there was a scrap piece of steel we pulled off our old tables and I decided to make the Prism. It is all welded 1/8 th inch steel and weighs about 100 lbs.
I recently finished welding my steel Prism and took it for a quick test. It didn't leak, and rowed fairly easily, but it rode a little too low for my comfort. However I noticed that in decent chop with two people aboard (probably a little overloaded for a steel version) it took the waves very well, even when I had to get sideways. Unfortunately I didn't have much time out as the weather has been bad and we went out between storms. Aesthetically it could use some work, but considering what I had to work with it turned out pretty good. There are minor dents and dings, and a big fold on the bottom panel right by the bow section, but thats what i get for using scrap metal. Overall, it turned out to be a good idea, rugged as hell, simple and fast to build (Total time spent on cutting and welding was about 8 hours. I could have got it done faster if I hadn't been doing this on my lunch break and in my spare time.) but slightly less than good. Although it didn't turn out great, there is a world of improvements I could have done, such as aluminum instead of steel, handles due to the extra weight, the boat weighs about 170 lbs, and tougher paint, maybe even Rhinoliner (we only had orange and black spray paint left over from homecoming, forcing me to go with a tigerstripe paint job which looks...interesting to say the least), and floatation chambers in the bow and stern sections.
(Yes, a steel boat of this size definitely needs flotation to be safe. Without flotation it will sink like... well, iron, if flooded.)
One of the more interesting conclusions i came to is you don't need a frame, I used temporary wooden jigs to get the right angle, but once it was even partially welded it was incredibly stiff. Also, I was thinking of putting some amas on it and even making it a sailboat, but maybe not.
Zeke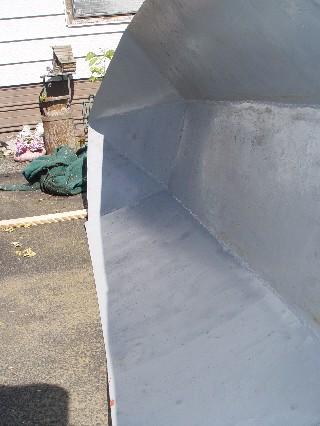 Top of the page.
Back to main page.
---