Dug Gallery
Attached you will find pictures and the panel cut pattern for a boat inspired by the Dug and Prism. It uses 1 1/2 sheets of plywood, and has the capacity to carry one adult and two kids comfortably.
Our prototype was made of 5 mm Okume plywood, and used standard epoxy and fiberglass tape seams. The gunwales were 3/8 in x 2 in redwood fence lath.
My family and I built it in two days this weekend, and sea trials followed on Monday (Memorial Day holiday here in the USA). It could use a skeg to improve tracking, but was generally a very nice craft.
Your design work and your web site have been a source of considerable inspiration, and this project could not have happened without them. Thanks for the site and for generously sharing your designs and knowledge with other would-be boatbuilders.
Best regards
Barnaby
Long Beach, California USA
PS: Feel free to post any of this material, including the layout, pictures, and the text above to your site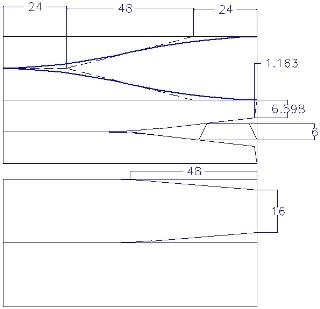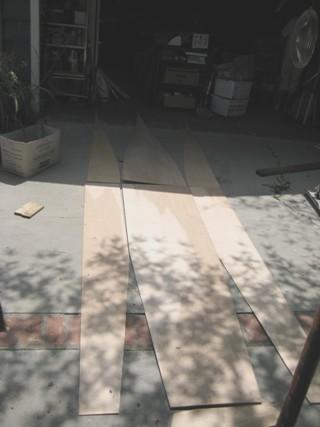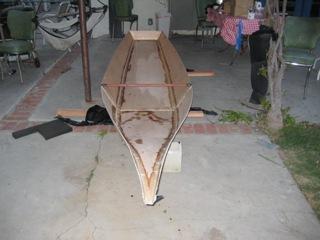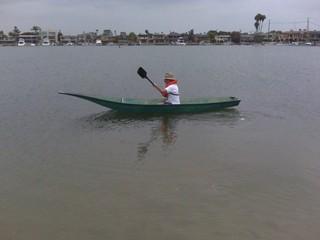 ---
Pictures of the Dugs built by students.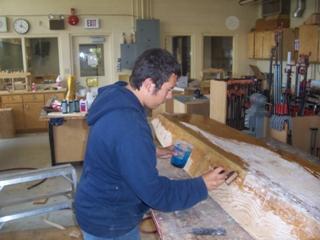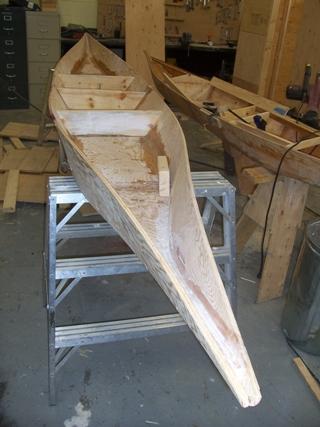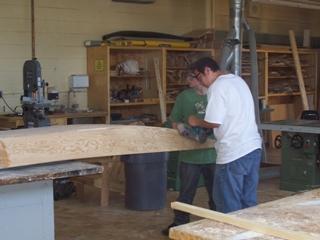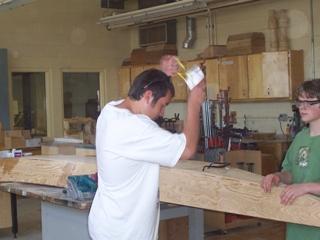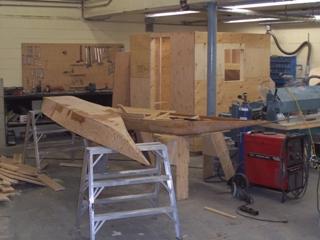 ---
I thought you might be interested to know about our recent use of an adaptation of your 'Dug' design.
About this time each year the Caloundra Volunteer Coastguard holds a Classic Boat regatta. One of the events is a 'Quick'n'Dirty' boat building competition. Teams are registered beforehand and each team is issued with two sheets of 4mm ply, a pack of plastic cable ties, and a pot of epoxy glue/filler. Two hours are allowed for the team to build a boat of any design they like and there is an award for the first finished. The next day the teams race their boats around a marked triangular course and there is an award for the winner. The boats are then auctioned to raise funds for the Coastguards.
Each year we, the Wooden Boat Association of Queensland, enter a couple of teams in this event and usually come up with some innovative and winning designs. This year we used your 'Dug', slightly modified with greater beam for more stability. The idea was to increase the value at auction by doubling the number of boats that could be made with two sheets of ply. We even managed an outboard powered catamaran.
Let me know if you would like some pictures or other information.
Oh, by the way, we won the race.
John
Queensland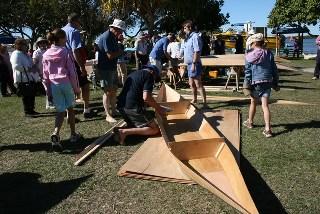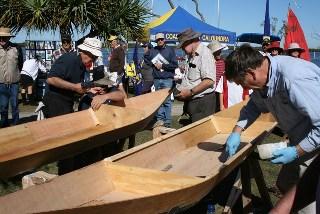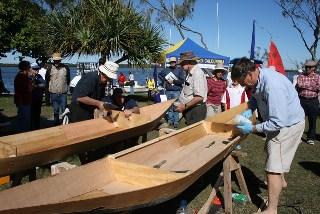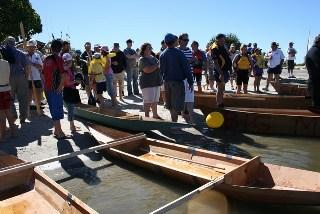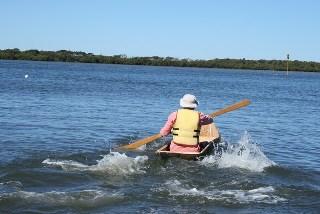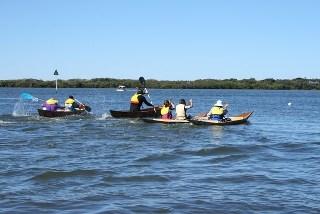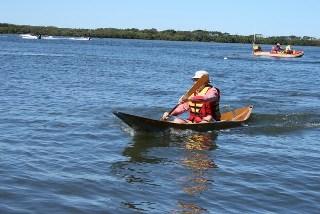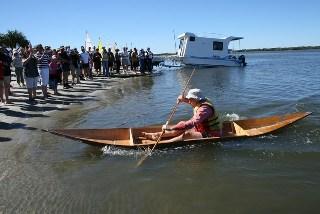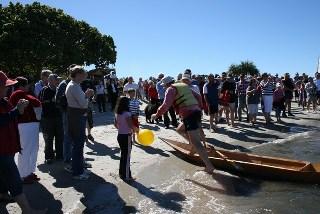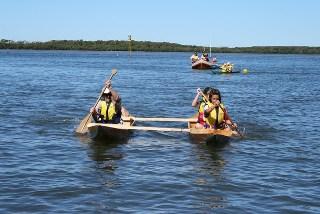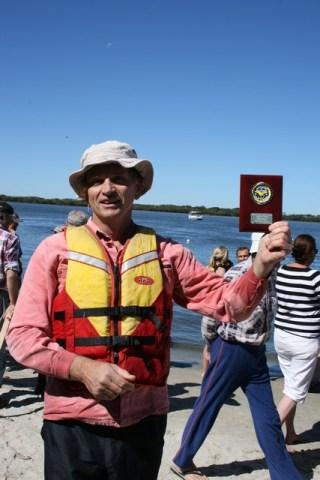 ---
I built my dug about a year ago, as the first boat i'd ever built. It cost me about 70 USD, and has worked marvelously. I've only had to replace one of the side seams, and thats with heavy and careless use. It's a fun, sturdy design that i have out on the Chattahoochee river (In Georgia, just outside of Atlanta) just about every weekend.
Wow thats a lot. But really, thanks so much for the designs and reading. It got me a start in boat building and boating in general, and boating is now such a happy part of my life. Largely thanks to you.
Jedd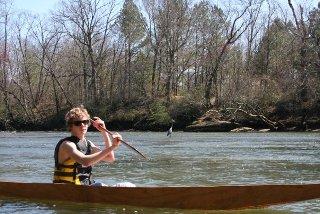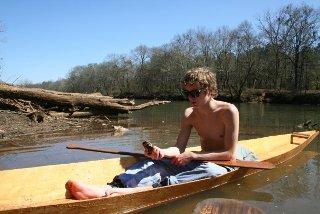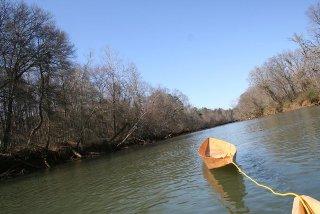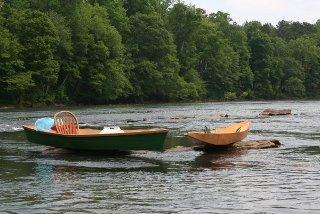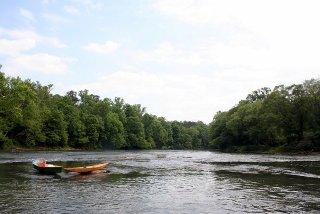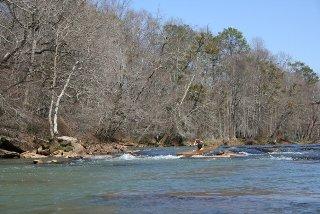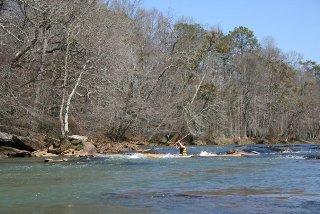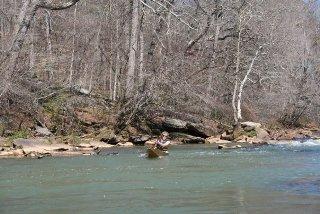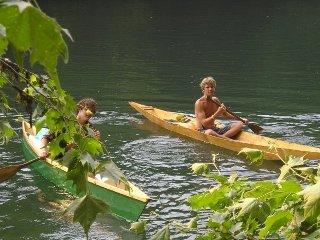 ---
Here are a couple of pictures of my Dug.
I left the ends of the canoe square, gutter-like. It is now easy to drain water out of the canoe through the "guter" when beaching.
I have two more canoes under construction at home, this is just a "test specimen".
Tapani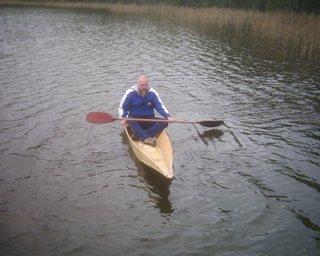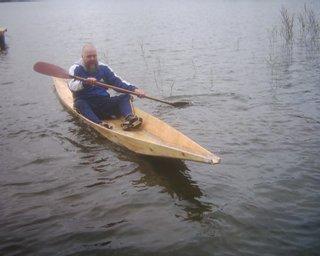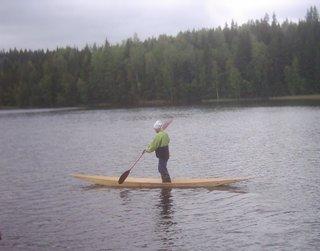 ---
Here's the whole story of building a "Dug" by Pierre.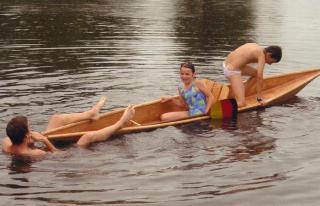 ---
Here's the whole story of building a camouflage painted "Dug" by Mark.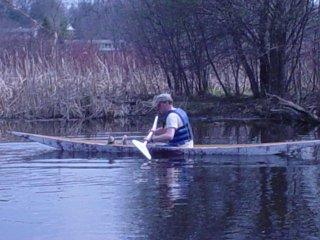 ---
Well we have started the boats, I have decided to go for the Dug but will deck the ends, so far I have got the canoe's sides on, (Wow it looks like a cane) but I think I'm going to wear latex gloves as I had epoxy all over my hands, my next step is to epoxy all around the outside.
I am light so I should be able to use it, if not I can let the kids use it, (they probably will anyway) I can't wait untill it is done, THIS IS GREAT FUN.
Her maiden voyage went well, I will have to learn how to paddle with my arms and not swing with my body as it gets a bit wobbly.
I'm very happy with the outcome and I would not have built the Kayak had it not looked so simply laid out on your web site. I had a lot of fun and I can't wait to go on a long row up the river.
Christine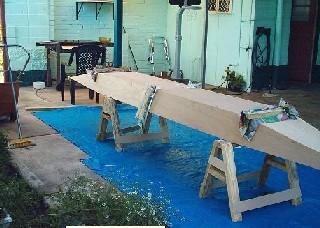 ---
I have built my version of your great design the DUG. It was because of your site that I got the self belief that I could build a wooden boat/canoe. Which you can see at my web page http://uk.msnusers.com/SAILIINGDINGHY/grawlmydug.msnw and at http://groups.msn.com/WoodenBoatBuilder/grawl1.msnw
I called it GRAWL using the initals of my name the wife's name and my boy's name's.
I am now working on an 8 ft wooden rowing boat [design called JOHN HENDRY] from an old book I got of ebay, which has just the basic sizes and allows the builder chose the size of hog the chines and gunnel, so adjust the mould to suit. It gets you to build a jig, add the moulds fit the hog the chines and gunnels,bow and transomto the mould from the inside using angle brackets and screws, then attach the plywood to the outside screwing and gluing it to the bow, transom, hog,chines and gunnels then when dry removing the screws and brackets from the inside and removing it from the moulds and jig the to fit out as you see fit,with keel,outter gunnels chines as you see fit, knees and thwarts [seats] and rowlocks positioning the where you want. As I say, without your web page I could never have tryed or worked out how to build this and the rest of the boats I will now build thank you very much and keep up the great work.
Graeme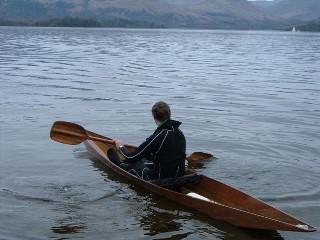 ---
I got the boat together but I did it a little different. I used 8mm plywood and I guess the sheets of ply over here in France are 8 feet plus 2 1\2 inches. Because I used thinner wood I made butt blocks, and that's what I did with the other boat so I'm more comfortable with it. I'm putting fiber glass inside and out and trying to make my own little touches here and there. I must say that it is a beautiful design. I really like the form and shape and can't wait to get it out on the river. I started to make an outrigger for it too because the river is big but there are really long barges that go up and down and make waves so I want to try that out. But I could not find plans for outriggers so I just kinda made one up so we'll see.
Well I finished the Dug on monday and took her out on the river over here. She was a bit shaky on the water especially when the big barges and yachts passed by. When I got her going pretty fast she spun out even though I put little running boards on the bottom. This is only my second boat and I don't know very much about the craft. I made an outrigger and am now trying to figure out the best way to attach it to the boat. I hope this will help with the stability and tracking at higher speeds cause I think I can get her going pretty good.
I finished my outrigger yesterday and took her out on the river. Wow what a difference. The stability was better than my first canoe and it tracked wonderful. I even got my neighbor out on it even though shes really afraid of the water. I painted it brown and it sort of looks like a giant candy bar, but the color is starting to grow on me. I don't have pictures of it in the water yet but I'm going to send a couple from the house. Needless to say I am very pleased with my dug. The shape, the speed. When my wife was out on it I could barely see the boat cause it's so streamline. Well I can't thank you enough for the plans and if anyone asks about the boat, which I'm sure they will, I will definitely give them your web page.
John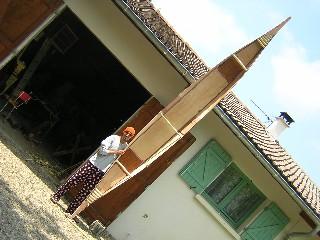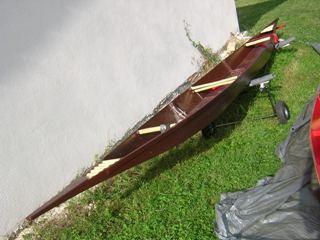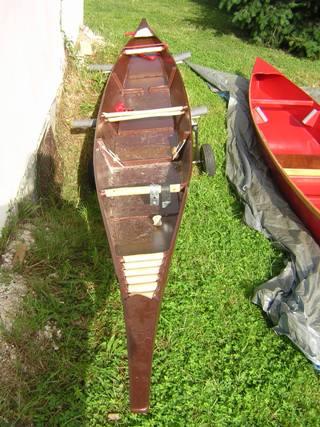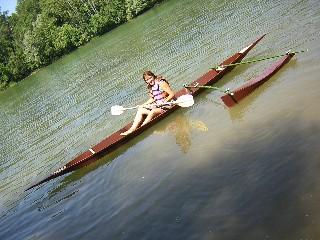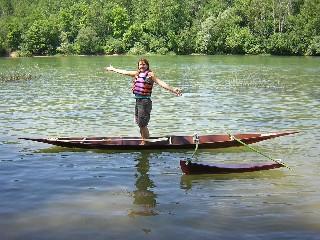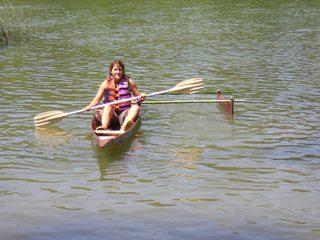 ---
Here are the Pictures I promised of my 2 Dugs. The reason for the slight shape difference is because 1 was stitch and glue, the second is made with battens so I could skip the tape seams. I believe I will add a skeg for tracking ability. They seem tippy but 2 seconds and I was looking for rapids. The canvas keeps it dry inside and submerging it just results in runoff. Thanks for the plans. I even carved both paddles myself out of cedar.
Mike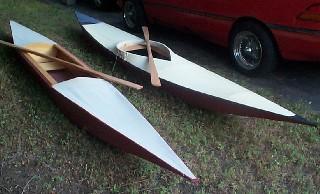 Top of the page.
Back to main page.
---