One Sheet Sampan Gallery
Here is a pic of my Vietnamese Sampan.
I used 2X3" to strengthen it and then I use slidable seats to accomodate 2 people if need be.
Thankyou,
John in SW Florida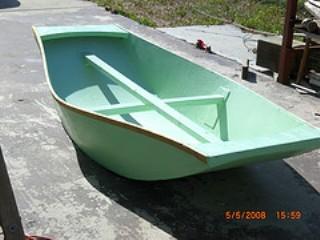 ---
Thank you very much for your website. It is inspirational. My 10 year old daughter and I have just built a sampan based on your design. The sampan is called "Klong", which is Thai for canal. We used a sheet of 3mm labuan ply (cheap and flimsy, but looked so good that we decided to go for the full length sides and split the bottom section).

We placed a section of ply on the inside over the bottom join, and built in vertical ply bulwarks (with a fore-aft section inside) and decked over with more ply to make the form rigid. We also put a couple of gunwhale strips down the sides, and built a fore-aft box seat. The end bulwarks and seat give it a lot of positive buoyancy.

The photo's are of its "sea trials", using a pair of centrally set oars. She goes well rowing forwards or backwards. With two adults in (150+ kg), she feels very stable, and rows well (although not a lot of freeboard left).

To complete her, we have some more epoxy work to do, are adding 3 rubbing strakes along the bottom (should help directional stability a little), are putting in an inspection hatch in each bulwark, and are adding a 3rd oarlock at the "stern" so that we can use a yuloh or sculling oar (she sits bow-down if an adult is rowing backwards).

At her sea trials, many passers-by commented on the beautiful lines you have created. This has been a great experience for us, and has tempted us to build some more of your designs.

Thank you, again, and I hope that our appreciation makes you feel good, as you certainly deserve it.

Cheers,

Eoin and Tahlay
Perth, Australia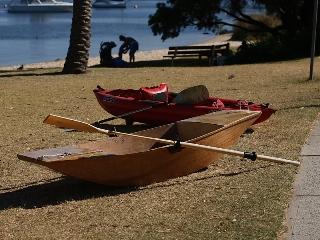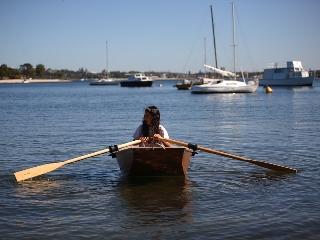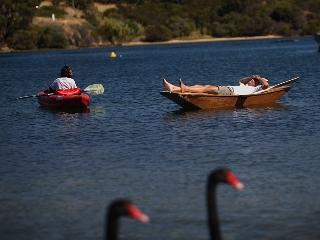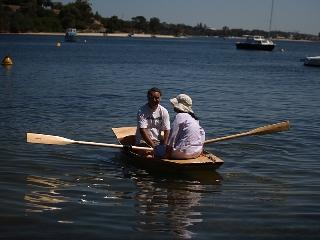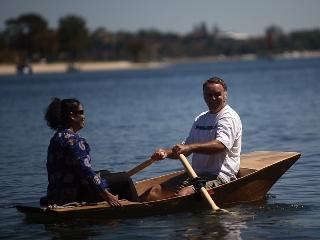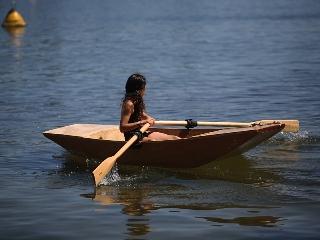 ---
I built the Sampan as a minimal equipment (no tent) float boat for river camping.
The two detachable spring steel hoops keep the Velcro-sealed mosquito and snake proof netting off the upper body area during sleep. They also support a rain fly.
Frank
Sugartown, LA 70662
USA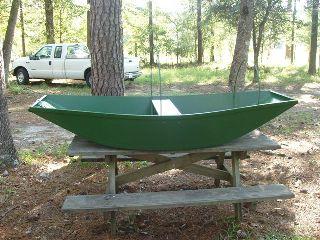 ---
This picture is of the one sheet sampan. I found it very easy to build compared to the micro-aury and it was very nice to use. Thanks again for the plans and the advice.
Donncha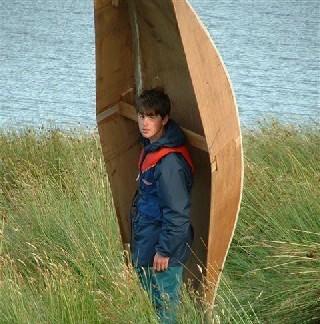 Top of the page.
Back to main page.
---