Micro Auray Gallery
I just wanted to let you know that I finished my first boat thanks to your great website!
The MicroAuray was a project for me to get the grip on the techniques involved. I learned a lot (meaning I am a perfectionist, and I know NOW what can be done better and nicer :) ).
Two thumbs up for your great site providing a wealth of plans, ideas, backgrounds, and above all a compelling enthousiasm that turned out for me to be a new and great hobby. (Man, I just move to a great house, and thinking of moving again to have an even bigger garage! :) )
This little boat will be a fine one for my three boys (all three water rats). Pictures are taken in the backyard in Winsum, the Netherlands.
Next one: the 15'8" fishing punt!
Cheers,
Herbert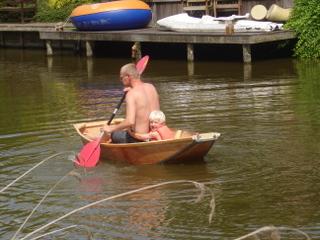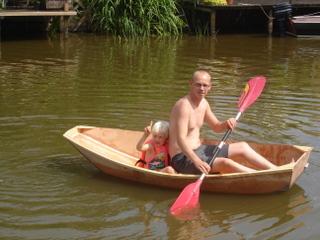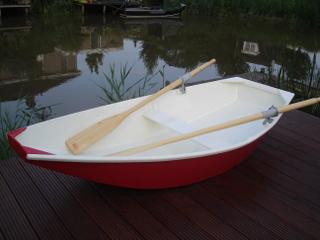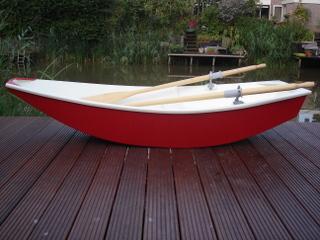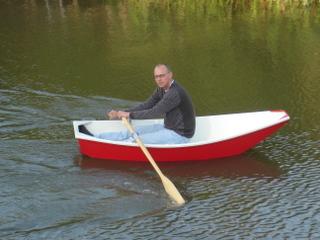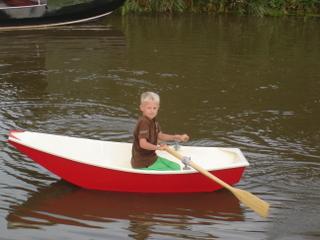 ---
Thought you might like a picture of my work... loved the project! I made this one for my sweetie for Valentine's day. She use's it everyday to get to and fro from our sailboat "Sushi" in the U.S. Virgin Islands and loves it!
She named it "Mrs.Cheng" after the south sea's pirate queen. I added a keel skeg so it rows straighter and the coping to keep her backpack dry.
Thanks for the plans...I plan on building a 18ft'er!
islandlove
Fuego & Sandiwch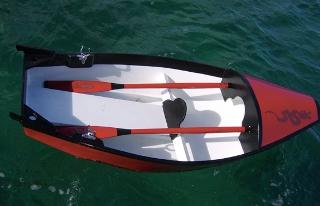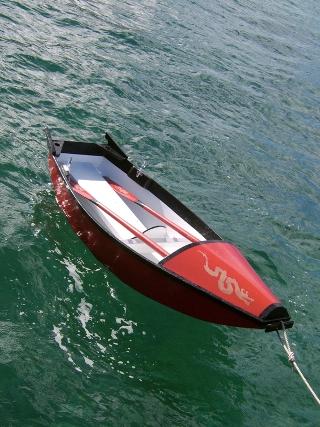 ---
I just wanted to send you an email thanking you for the Micro Auray Punt plans as I built the vessel successfully and have enjoyed fishing from it greatly.
Rather than risk my poor attention to detail causing problems with the seat, I modified the plans slightly and put in a solid crossmember with brackets. It seems to have worked fine and the boat is still quite light.
I have attached a photo of my brother in the boat, having just caught a lovely pan-sized bream (Australian saltwater fish).
Anyway, many thanks once again.
Dave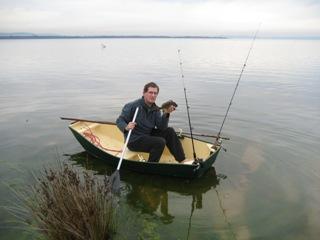 ---
Thank you for creating your great website and providing the free boat plans.
Here are some pictures of the Micro Auray Punt that I built for the smaller members of my extended family. It is a cute boat and I enjoyed the building it very much. I live in Indiana, USA near the southern tip of Lake Michigan.
Thanks again.
John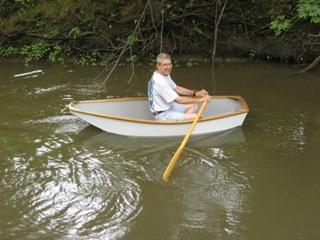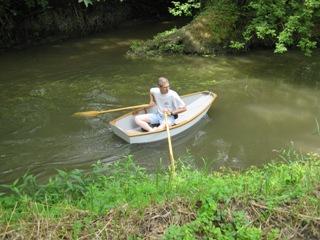 ---
John's Micro Auray Punt building page.


---
Finally my micro Aurey is ready. I named her Julia after my little daughter. Yesterday she made her maiden voyage. She did rather well.
As you can see on the pictures the seat is somewhat different than yours but the balance is okay, so is her stability. The only thing is that it was a little bit difficult to row her in a straight line. Probably due to my inexperience in rowing.
Pupils of my school painted the butterfly.
Peer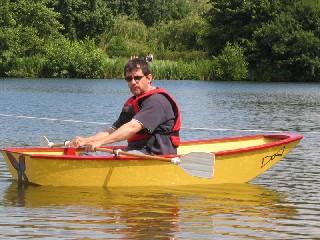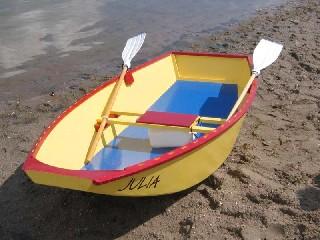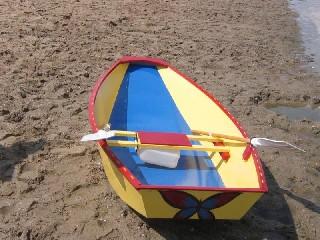 ---
No questions or comments, just a big thank you for all the info that enabled me to build the Mini Auray Punt and to navigate across the Fleet to get to the best isolated fishing spot on Chesil Beach.
Fits well into the back of the Fiesta and then just a 100 yards carry down to the shoreline.
Tony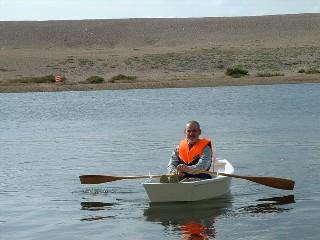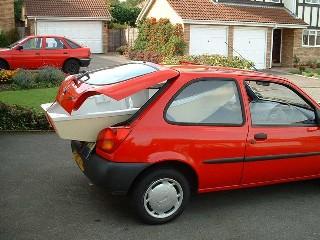 Top of the page.
Back to main page.
---