Light Sculling Training Boat Gallery
I just finished some box beams to connect our two sculling boats together. We took it out for a trial 16 mile run using electric power. It worked very well. The beams create a very stable platform, you can easily sit/stand on them or walk across. We had a 25 mph headwind on the home leg, and the configuration proved very slippery and handled well, we just hunkered down to limit the windage. The catamaran also handled chop well, we stayed pretty dry despite running into some whitecaps. I will make some fabric spray decks. Next season's project is to make up a simple sail rig.
We got the boats to the river (~1/2 mile) and back with bike trailers I built. After launching, I assembled them in the water. The beams are mostly hollow, so not too heavy. I have an electric motor assist on one trailer & use it to carry one hull, batteries, motor & beams. We will continue to use the boats for sculling primarily, but the catamaran configuration makes a really pleasant all-day "expedition" platform. I will make up some "half riggers" to experiment with rowing using one oar each side.
The wedges are battens that hold my hatch covers down. The cross beams are held down by steel bolts, there is reinforcement below the deck. I made things strong enough (I hope) to handle some big waves and sail loads.
Not only does the catamaran look bigger than it is, it feels even bigger than that. It's so stable it feels like you never leave the dock. I was concerned that the steering would not be so responsive, but that works well, even in a strong wind. With a mast and sail, we should be able to have enough range to sail Boston harbor. It will be a "3-way" boat: sail, oars or electric :-) I should be able to see how it rows before we run out of summer. The sail plan will give me something to think about during our long winter.
Thanks again for the great design. When I first saw it I was excited by the idea of using it as a "platform" for experimentation. So far it is living up to my expectations.
Peter
Newton, Massachusetts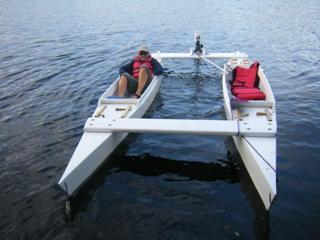 ---
I made 2 of the rowing shells this spring, one for me, one for my wife. We have been rowing a lot. Currently both boats are set up for fixed seat, we do so much cycling we're really only looking for upper body exercise. Our typical rows are in the 5-10 mile range here on the Charles River in Boston.
My next step will be to connect the 2 hulls with a (removable) pair of box beams to make a catamaran. I have calculated that I can get perhaps a 30 mile range with my electric motor. I'll be placing batteries in the bow compartments. I appreciate the hull drag curves. The design seems like a nice compromise between speed and stability.
Next year I may add a sail...
Thanks again,
Peter
Newton, Massachusetts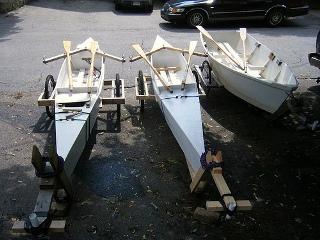 ---
I just wanted to say thanks for posting the .hul file for your light sculling trainer design. I have been looking at it for quite a while, and decided to build it last year. I didn't spend a lot of time on it, so the project dragged out, but it is almost done now.
I build it so I could use it as a kayak as well as a sculling boat. I still need to complete the sliding seat rig and outriggers for it. i used cheap 5.2 mm plywood, so it is heavier than your plans, about 58 lbs.
It paddles well, and tracks like it is on rails. I am excited to try it while rowing!
Here are a few links to my web page were I kept a loose blog of the build
http://www.flsail.com/projects/45-light-sculling-trainer-project.html
http://www.flsail.com/projects/45-light-sculling-trainer-project/121-light-sculling-trainer-splash.html
Thanks again!
Jon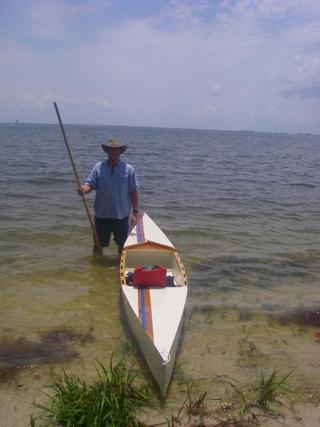 ---
Just thought I would share with you a few pictures.
I borrowed your skulling training boat plans. With a couple minor changes, it look like a cross between a canoe and a kayak, it is what met my needs best. Hopefully you donít mind. It is close to being finished. I hope to test her this coming Sunday afternoon.
I am all finished, and she works just awesome.
http://ourcampbellhome.com/boat.htm
Jason
Arkansas, USA
---
I made a plywood kayak based on the instructions of the Light Sculling Training Boat. The kayak is 40 mm narrower than the plans indicated. The floating chambers are slightly smaller, to accommodate two paddlers.
The kayak is made of 4 mm birch plywood. I could have bent the deck further down, to make a narrower gunwale, but it works well enough as it is. My wife is especially enthusiastic about the kayak.
It seems that I have to build another one, since my wife is paddling this one all the time. The next one will be narrower on deck, and have a smaller entrance hole.
I will also make hatches to both front and rear floating chabers.
Pekka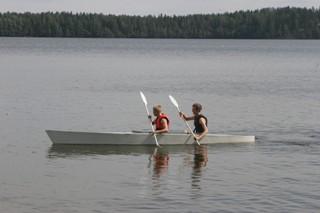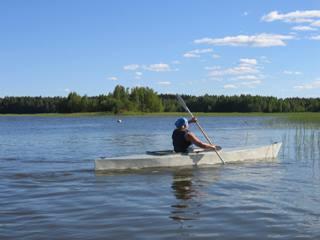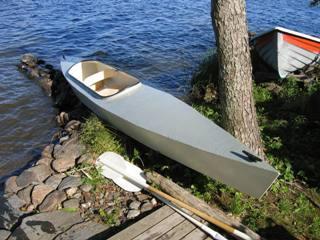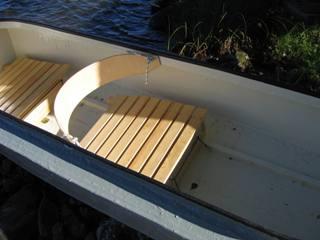 Top of the page.
Back to main page.
---