10 1/2 ft Skiff Gallery
I'm glad to report you that the first boat designed by you is successfully launched in Russia at the canal Moscow - Volga (Moskva-Volga we say).
I attach herewith some pictures.
As you see I made some modifications: fixed floorboards, classic knees, glass band reinforcements of transom etc.. to improve anti wear sustainability.
I built the boat as a gift for my friend who needed but couldn't find a light but stable boat for fishing. He helped me however to sand and paint the boat. I also made oars. This is boat No.8 I built.
Indeed I made a lot of modifications because it wasn't much work for me with all the experience behind.
Still I appreciate your job aimed to encourage people to build boats themselves and discover the excitement and fun after all.
Two seats arrangement was unusual to me but the friend who will use the boat for fishing said he will go alone or with a friend, so this was the choice. Trying the boat I liked this idea. And this was my first boat built stich and glue, OK, screw and glue fashion. I used very thick glass cloths (only available then) and it paid off when the boat was pulled over stones
Mikhail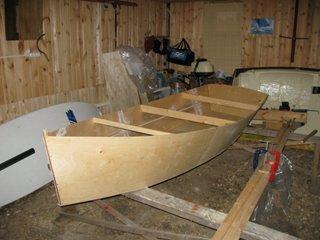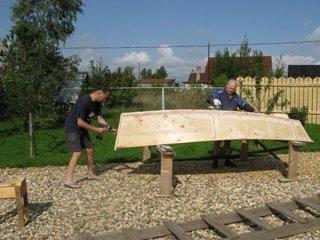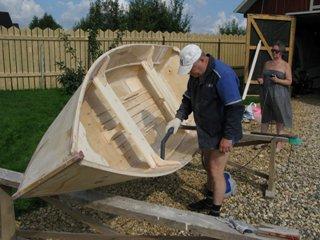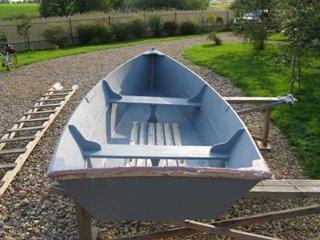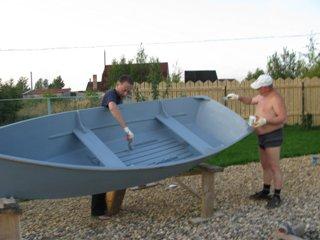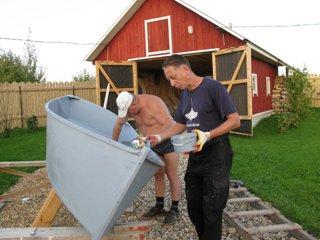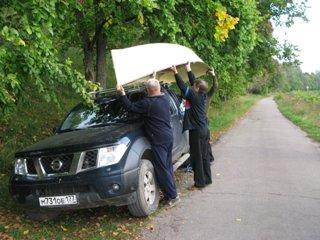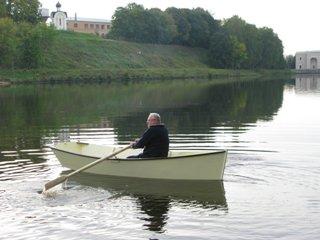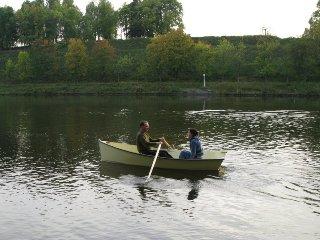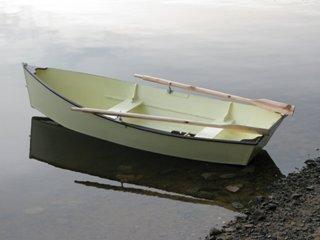 ---
Please let me thank you for the 10 1/2 foot skiff plans, plus all the precious ancillary information of wich your website abounds. Actually, I have built a slightly shorter skiff than 10 1/2 foot, due to the availability in Italy of plain 10 foot sheets of 6 mm, 3 ply, okoumč plywood. I just scaled down the station spacings by a bit less than 10% and opened a little the stem angle but kept all other parameters untouched. The bow is the plumber, old style choice which seems to regain a little LWL that was lost to my aversion to scarfs. At 2 m length, the oars I bought are more appropriate to the forward than the central rowing station. From the beginning I was won on the idea of the longitudinal split seat and have found it to be really functional and comfortable at rowing and not out of place even when sailing. In fact, on such a small and light craft you better keep your body weight well inboard! As you can see from the attached pictures, I imagined a very simple lug rig together with a rudder and a dagger board braced by the longitudinal seat. The dagger board case is placed in order not to interfere with the rowing station options. This leads to a little too much weather helm that could be cured by the addition of a skeg or the reduction of the lugsail base. This boat has been a real pleasure to build, it is beautiful to row and sail and its design draws admired comments even from distracted passers-by. Thank you, Hannu!
Iacopo
Italy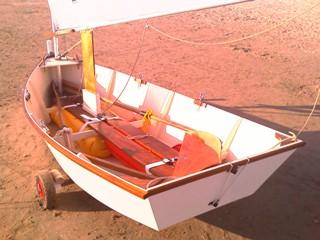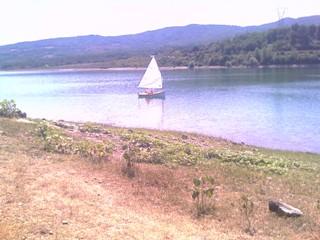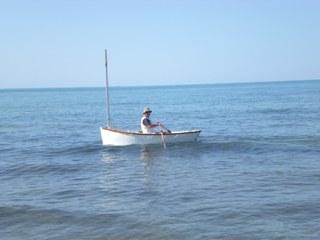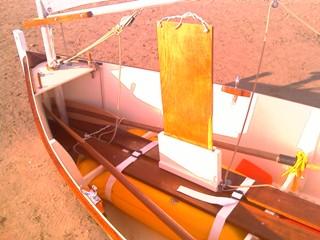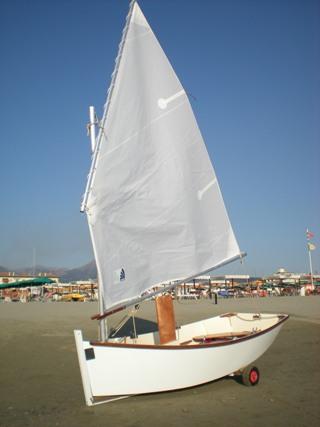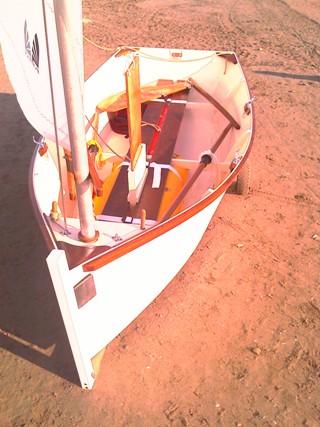 ---
The construction photos are still on my computer at work. I will send them soon. Here are the launching day shots. Unfortuneately (when my litlle girls got into the boat with Ben to level off the bow) my camera's batteries ran out. The boat looks good with Ben in it (too bad he had that battery weighing down the back) it looked great with Ben and my girls in it. The difference in freeboard between Ben alone and Ben with a seven and an eleven year old is negligable. I hope to encourage more boat building in this area, and your plans are foremost amongst those I advocate. Thanks for your designs and making them free to everyone.
Yours,
Richard
P.s. The first picture shows two boys standing in a hallway by the boat. The one at the bow of the boat (farthest from the camera) is Ben (the boat's builder) the other young man is a friend who was helping out that day. This picture was taken on the day I delivered the talk on how to build boats as part of a school shop program. Ben's boat and one of the kayaks (Dugs) were on display.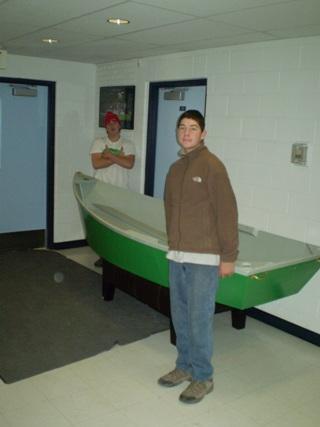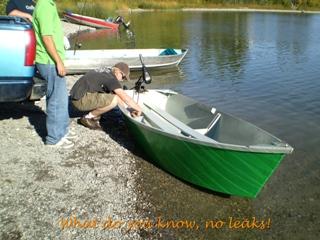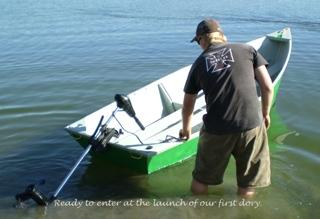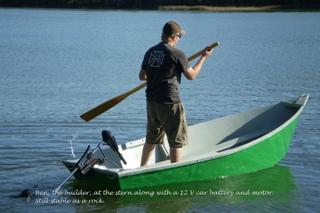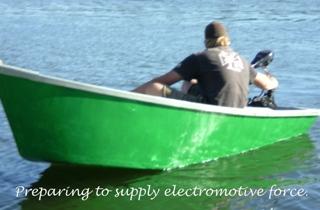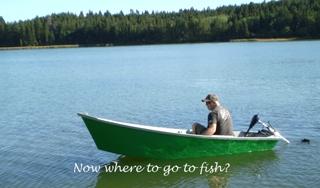 ---
Just wanted to share this wedding gift my friend and I built for another good friend of ours who got married. We got the plans off of your site and the only changes were that we opted for a closed front section and stronger gunwales. We also added a keel to the bottom and a heavier transom so that he can add a small engine in the future. The boat easily takes 3 adult males 180-220lbs and has even held 4! We live on the island of Curacao in the Caribbean, so this boat enjoys plenty of action as a small trolling boat. I am going to build a larger scaled up version of it soon to see how that holds up. Note that the oars are home made as well!
Thanks!
Carlo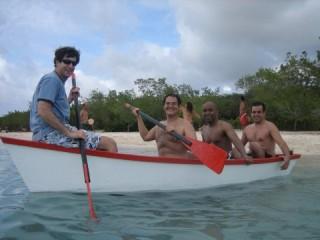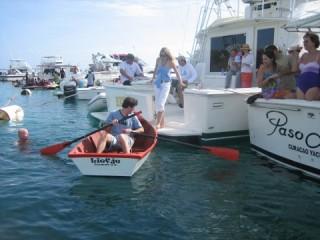 ---
About a year ago I was thinking about building a small boat for my granddaughters and came across your website. I loved the lines of the 10-1/2' skiff and figured it could be adapted for a small sail (50 sq ft) and would fit into our SUV. Well here it is on our first outing. The boat rows beautifully and is so easy to move that the 8 year old was moving me across the lake. Under sail the boat is a little "tender" but small boats are. I went with the sprit rig to keep the center of effort low and avoid dealing with the boom and little kids. The single leeboard, large rudder and skeg kept her on track just fine. I need to work on changing how my main sheet is rigged to flatten out the sail, but all in all it sailed well. I set a goal to build it for $100 and wound up spending $175. Primer, paint, and pintles and gudgeons ran up the cost. However, building my own oars and making the sail from a blue tarp saved a lot. I used PL Premium construction adhesive and galvanized deck screws as the boat will only be in fresh water. I didn't have any cost for epoxy or fiberglass.
So that's my story. Thanks for a great design.
Jim
Wilmette, Illinois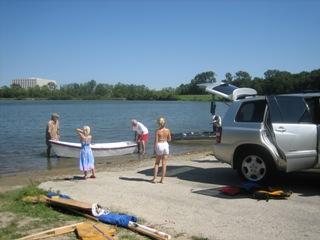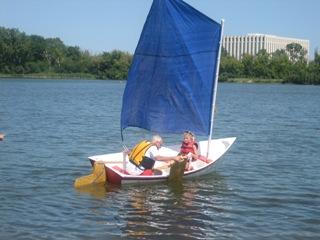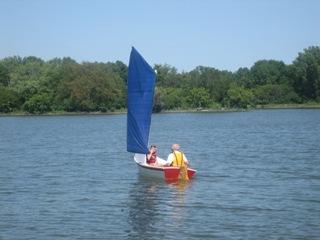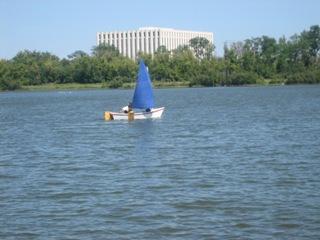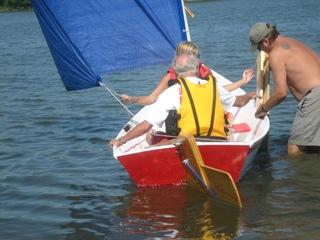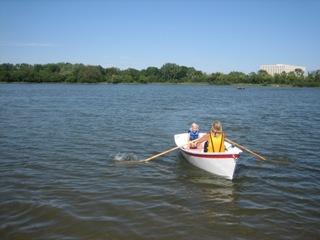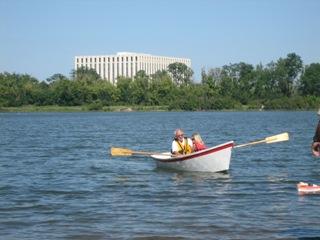 ---
Ya did it again, the newer one, 'a 10-1/2 ft skiff' but I just HAD to play with stuff..
modifications: I opted for chine logs and seat stringers down the sides, about 1x1 with angled cuts where needed, seat box (sealed chambers there) bulkheads are crowned at the bottoms to push the bottom convex, about 3/4" worth, then the bottom has 9" wide center strip (also luan) with a 3" strip down its center for a keel of sorts, aka: 1-1/4" worth of wannabe V bottom... kinda, lol. it stiffened the bottom a LOT for the center section between the seats, but also left an easily wiped down flat floor inside.
the transom, bow peice, seat tops, and corner braces are 1/2" birch ply, with having the transom material it was free license to stretch the boat another foot. a less steep transom gave another 3" of bottom.. so 15" total gain to hull bottoms length. I also changed the width of the transom bottom to 27" and the top to 37".. 5" different, not the 24-36 with the 6" difference.... which took out most all of the rowboat rocker from the stern and added buoyancy back there for a small outboard (near 3 sq. ft. worth)... yes it does get up on plane nicely, kinda spooky for being such a potato chip lightweight boat... but a lot of fun with the 6 hp johnson. gottaluvit! (also why the rear seat is a bit further forward)
idk, with the large bow peice, corner braces, seat stringers and bulkheads, the bottom strips, its very rigid, but also seems to be a bit of a 'ghost structure', everything built very light. hanging 10hp on it and really zooming just might end up rattling it apart, kind of afraid of finding out the hard way, and pretty sure most boats for 10hp have a 10-12" wider floor.
(am looking at many plans online, svensons site has a few cool ones for power)
it'll be used a whole lot more on large ponds and small lakes with 36 lb thrust trolling motor.. to me it's 1 or the other, I cant see putting the engine, gas tank, battery, trolling motor, and 2 persons on it all at the same time, OR trying to hang 10hp on it to even try to get 2 adults on plane, I think it'd handle the weight just fine but the idea is just a bit spooky. most canoe's are rated at 5hp max and with the floor being just 32" wide, it does feel a little tippy at rest, not horribly either tho.. it's still pretty much a rowboat, I still have to make a pair of oars, closet pole with 8" opposing notches (more fun with a router) and ply paddle blades like I did for a prism kayak paddle.. I didnt build 2 prisms for a pontoon boat, that idea was scrapped for this project lol.
seat tops are covered with 'pulati's' excercise mat for a little padding, then covered with thin auto gray carpet, the rails are step cut to be flush with the luan sheeting to the inside face, with the tops routed/rounded over.
chine logs inside, glued and screwed, screws removed, screw head holes filled with 'bondo' then all seams taped, 3 coats of fiberglass resin squeegeed thin to the whole hull to harden the skin, painted with 3 coats of epoxy enamel floor and trim paint. total length is 11' 9" long, 45" beam at widest, and is easily car topped upside down with kids 'pool noodles' slid onto the rails. I dont think I have 125.00 into this project total... 2-1/2 sheets luan, 1/2 sheet of 1/2" birch ply, a few 1x2's, a bunch of waterproof wood glue, a small can of bondo, a little fiberglass resin/cloth, some paint, a couple hours a night for a couple weeks, great stuff.
also built a little launching dolley, its just 1/2 steel rod, 6" wheels with a 12x36 carpeted top, strap the transom end onto it, load the gear, and walk it to the water myself from the bow end.. if I have to manage it all myself, its pretty easy with this little dolley.
awesome design I started with, THANK YOU HANNU !!! next time out I'll try to get some pics of it (flying) on the water to ya.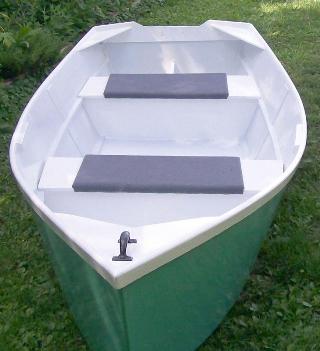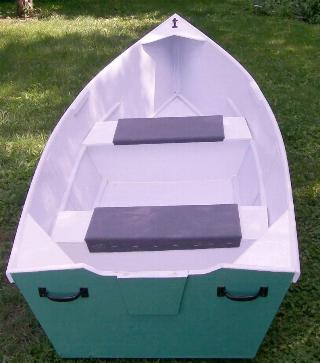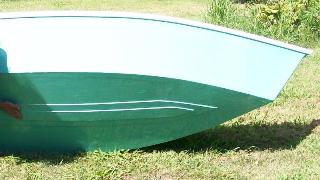 ---
I wanted to express my sincere thanks for the effort you have put into your designs and wonderful site. I had stumbled across it a few years ago after asking myself the question: "Doesn't anybody have free boat designs on the web?" I got excited after seeing your designs, but forgot about it for some time, until one day I got the "bug" again and returned. When my wife came home that day & asked what on earth I was doing, I replied "Building a boat!". It took me a few days -- I had to endure the curious onlooking of passers-by (I was working in my driveway), and my master-carpenter (and boater) neighbor. Fortunately, it came out just fine, and everyone -- wife & neighbors -- was suitably impressed.
I made the 10 1/2' skiff. I used 3/8" plywood. If I were to do it over again (and I probably will), I'd use 1/4" plywood of a better grade (I used "BCX", a rather rough grade). I also cheaped out a bit, when I ran out of epoxy, I used polyester resin to finish, now I'm buying epoxy in 1.5 gal kits, so it's much cheaper, and I won't be using polyester at all. I didn't have too much confidence on my first attempt, I guess.
I made this skiff originally to use as a tender to my 20' sailboat. I live near Boston (MA, USA) in a town (Newton) that's bordered by a river (Charles) on 3 sides. My wife and I (& daughter too sometimes) started using the skiff for river picnics, and had so much fun that she won't let me take the skiff to our sailboat's harbor until I build another just for picnics. I think I will do that, the 12' skiff design was exactly what I was looking for.
I made the skiff 2 years ago and we have used it dozens of times, exploring most of the sections of the Charles River around our city. I started with a set of 7' oars that I had, then made a set of 8' oars, and recently bought an electric motor to both give more range and use on days when it's too hot to row (or I'm too lazy). The electric motor is rated at 50 lb thrust. It will push the boat (with 450-500 lb cargo) at rowing speed with half power (4 hrs/battery charge) or (probably) hull speed at full power (2 hrs). This gets us a comfortable 10 mile or so range. This summer I made a trailer for the skiff -- one that can be pulled with a bicycle. I did this mostly because the river is very close to our home (1/4 mi), but there are no launch sites accessible by car on that section. With the trailer, we can literally be in the water and rowing along 10 minutes after deciding to go. We spent many enjoyable evenings this summer that way.
The skiff is very seaworthy. We were out one night until well after dark on a section of river that had lots of boat traffic (wakes). I'm very big, 6'10" (210cm)/230 lb/105kg, with my wife, daughter, motor & battery, and various other cargo, perhaps 650 lb total. It was a little sketchy at times, but not too bad (we're pretty experienced boaters). The 12' version would be perhaps a bit better for that kind of load. We have also navigated many sections of river that are very shallow in spots, sometimes too shallow to row (I made poles). The hull design is a very nice compromise for this variety of situations. I really like the fore/aft design of the benches. It really helps to trim the boat. With the 3 of us, I made a seat back that has a horizontal board that sits in the oarlocks and a vertical slat that goes between the bench rails. This allows the middle passenger to sit facing forward, the other passenger in the very bow (facing back) and me in the very back working the motor. For 2, we either row from the middle with passenger in the stern, or (motoring) put one in the bow, one in the stern facing each other and can fully stretch out (even at my size). Very comfortable (with cushions!) and very quiet with the electric motor, can go for hours and hours as relaxing as lying in a hammock, chatting, drinking wine and getting very close to the wildlife (herons, egrets, swans, geese, turtles, etc.).
I am excited about building some new boats. I experimented a bit with different rowing positions with the 10 1/2' skiff. I'd like to do some tandem rowing with my wife. I think that the 12' version will be a better fit for that. I had a lot of fun making a pair of oars this summer from a design I got from the web, each oar was made from a 8'x6"x3/4" board, cut, laminated and shaped. Since I like the fore/aft bench on the 10 1/2' skiff, I think I'll stick with the same for the 12'. I was too conservative with the first boat, using 3/8" plywood, I'll use 1/4" on the next boat. Although it wasn't particularly difficult to bend, it does make a much heavier boat than is necessary, the 12' should weigh proportionally less, good news for bike trailering and/or car topping. Another thing I made this summer was a wooden frame, which I tie on to my car's roof rack. I made it to overhang the roof in the back, so we can tip the bow on it (resting the stern on the ground), and I can then lift the stern up and slide the boat forward (covered the frame with carpet scraps). Our car is tall, and this was otherwise awkward.
I'm also thinking about building a pair of kayak type hulls (perhaps from the "dug" plans). I'm thinking of enclosing the topsides and connecting the 2 hulls together in a catamaran configuration. My idea is to make a fast, 2 person craft to get maximum range/speed on the river with an electric motor. Maybe a crazy idea, I don't know. There are no obstacles between my house and the end of the Charles River (8 mi), and I'm thinking it might be fun to have a craft that can go the distance in a reasonable time.
Anyway, I'd like to again express my appreciation for your efforts. I have read all of your articles and find them inspiring. Being an engineer, I appreciate the technical content, and your explanations of materials and the boat making process. You have created a unique and valuable resource. This is the Internet at it's best. My only complaint is that I have been having so much fun messing around with my little skiff that my larger motorboat and sailboat have been getting less use!
I finally got around to posting some pictures on flickr, here's a link : http://tinyurl.com/69hule
Thanks again,
Peter
Newton, Massachusetts USA
PS
We'll be boating on the river at least until December -- blankets & cognac!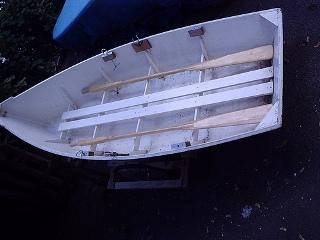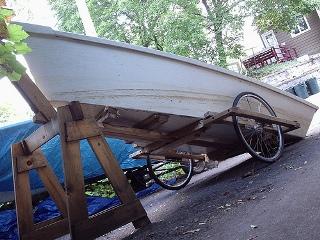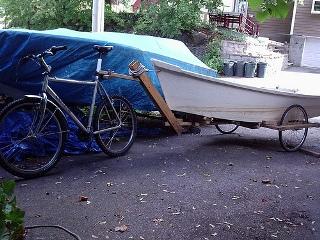 ---
I built your ten and a half foot skiff in about four weekends (40 hours) for a cost of about $200 US dollars. It is a great little boat and will do me good service. It rides nicely in the bed of my pickup truck.
I only deviated from your plans by not having any internal frames or seats built in. I doubled the gunwales to 1.5 inches thick by 1 inch high and used 3/8 fir AC exterior plywood. It seems stiff enough. I sit on big blocks of foam salvaged from where I work. I made some thole pin oarlocks out of 1 inch dowel and some leftover pine I had. They work well but I have to lash the oars to them until my form improves. The holes in the knees make great fishing rod holders.....
As you can see from the pictures the boat handles two adult males, I am 230 lbs myself and the boat weighs 70 or so pounds, my friend is at least 180 lbs for a total of 480 pounds. Wand we were out in 12-18 inch waves and boat wakes with no water shipped during fishing. Of course we adjusted the trim by moving around to get comfortable, so the movable seats work well.
Take care and I will send some pictures of the Dug I built first. I haven't put it in the water yet, this one has taken me.
Gary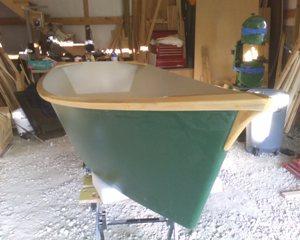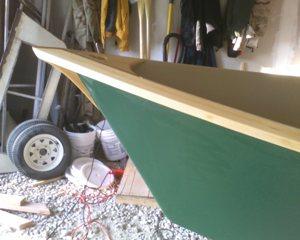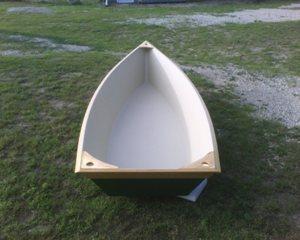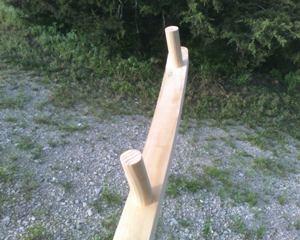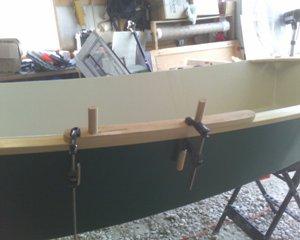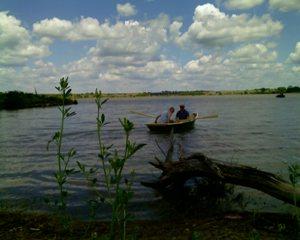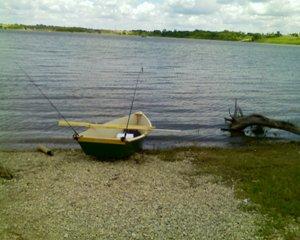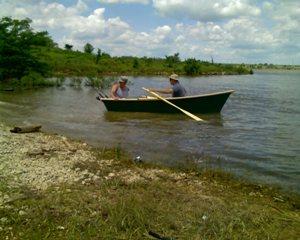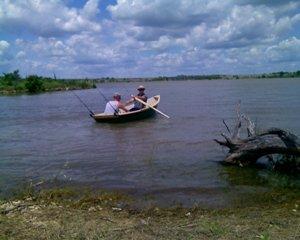 ---
My name is Charles and I live in Victoria BC Canada on the Pacific Coast. I am just finishing building your 10 1/2 foot Skiff design. It's my first boat project and it has turned out very well. The only adjustment I made was adding a frame where the rear seams are. Otherwise I am almost finished, I will just be adding the rub rails and oar locks when the paint dries. I get a lot of compliments from my neighbours, and I just wanted to pass this on and thank you for posting these excellent plans.
Sincerely,
Charles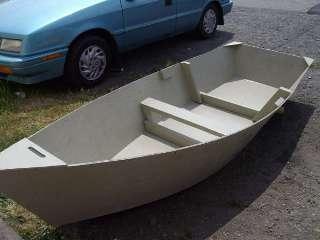 ---
Here's some pix of a 10 1/2 footer i just finished with the help of your page. Thanks a million.
Mike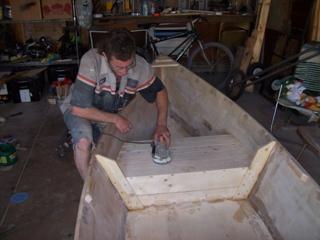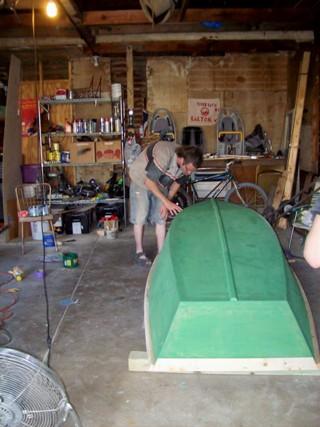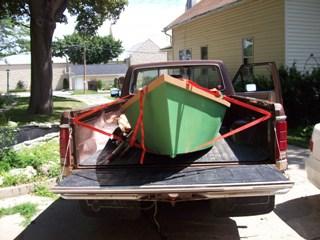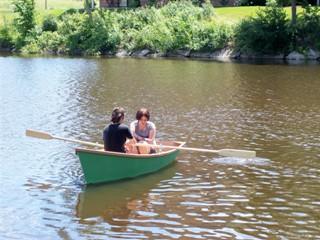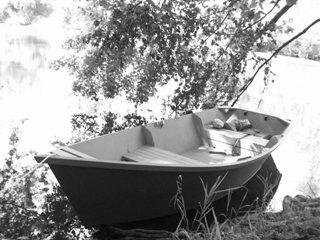 ---
Hey I just finished building a 10 1/2 foot skiff based solely on your plans. I even used your horizontal seat arrangement. Everything worked pretty well. I just wanted to tell you thanks and to drop you a photo. This was my first major building project, and it was really fun.
Ted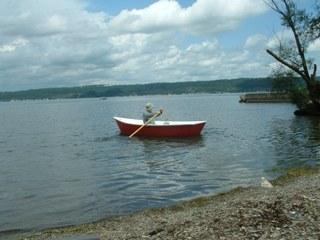 ---
The summer went quickly, but every now and then I had time to build this boat.
The boat turned out quite like I expected. It is light to scull. When sculling alone, it tends to wander a bit, with two on board it tracks better. The correct distribution of weight on the light boat seems to be very important.
We had great fun, and will have many more times!
Pekka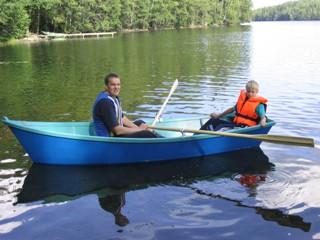 ---
I wrote to you some time ago with photos of a model inspired by your skiff designs. Well, with a few more modifications, a little of this and that, and some improvising along the way, I've finished the basic boat. I am now going to work on preparing it to accomodate me to sleep aboard.
Thought you might like to see the rig. It's still in my basement although I did dump it in our river when it was just at a point of being watertight. The hull is luaun plywood, taped seams, epoxy coated, varnished, gel stained mahogany finish, and then varnished several more coats. It will be sloop rigged with a new jib and my home built roller furling device.
I was just poking around your site and saw the pictures of my new boat still in my basement. Well, I am proud to say that It has sailed very nicely in the past few weeks. The shallow V bottom I feel has worked out very well for me.
Maybe slightly over canvassed but I can always reef the main and partially furl the jib if need be.
My initial inspiration from your skiff, a few mods, and a few changes along the way has produced a very satisfying little sloop.
Dave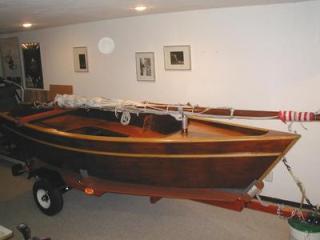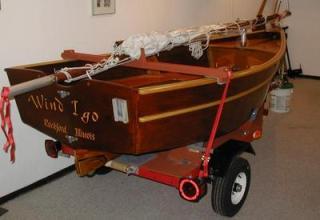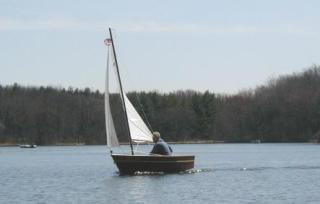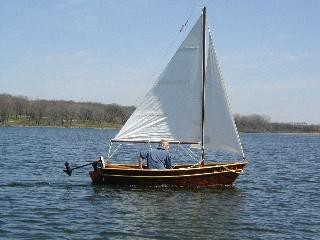 ---
Got the plans for building the skiff around the start of the summer off your site. I made it with my patrol in scouts. It worked out great and didn't leak at all. The paint work was done by a friend called Bart.
Thanks again for the wonderful plans and directions. The 10 and 1/2 foot skiff is the best boat I ever built.
Donncha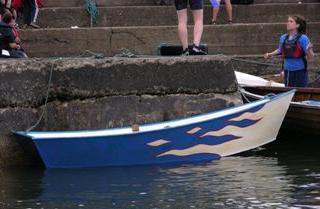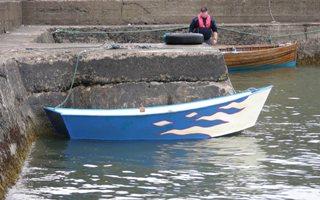 ---
The boat is not ready yet, the exterior has been painted with an epoxy primer and polyurethane topcoat. The colour has been chosen to highlight the character of a small boat. It is bright to show properly in water, but yet a colour that blends nicely with the surroundings. The interior will probably be pained ship-deck green.
I've been mainly building outdoors. No vacuuming, since all the dust stays out.
Here's my boat storage method. The ropes go through holes in the quarter knees.
Pekka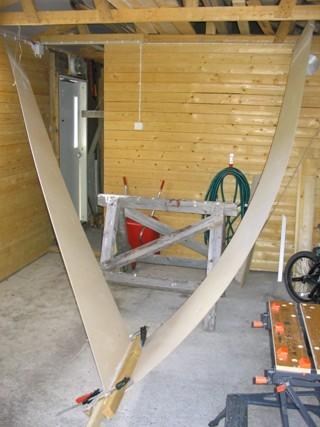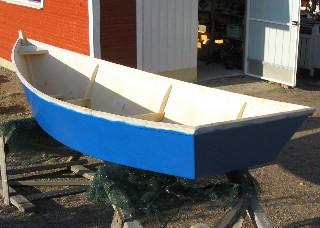 ---
I built your skiff over the past two weeks. It took about 30 hours of time total. I built a Portugese dinghy last year but it was just too small and tippy so I built this one for local fishing trips. Altogether it cost about 200.00 dollars to build.
The dog's name is Max.
Joe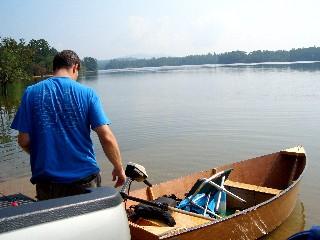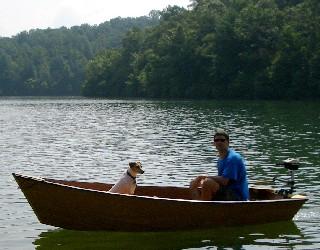 ---
A couple of years back I built a D4 dinghy for my first boat building project. I've made several changes to it including sail rigs and ended up with a sloop rig, main and jib to total about 51 sq feet. I will sail this in just about any conditions that come along with winds to 20 mph and waves in the 2 plus feet. Yes, it does get exciting. And yes, I did put in a set of reef points.
So, I am now getting the itch to build something else, a tad longer, pointed bow, van toppable, stitch and glue, and use the same sailing rig as it is pretty clean and cool.
After searching the web I found your site and the 10 1/2' skiff. I took the side panel dimensions and built a 1/8 scale balsa model with the sail rig, dagger board, a conventional sailboat seating arrangement, and a shallow V bottom.
Dave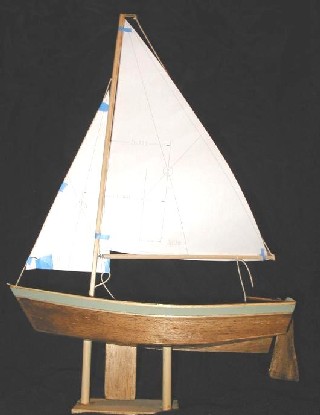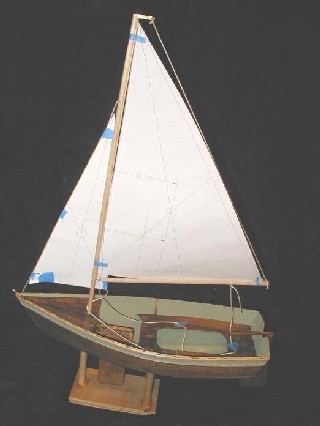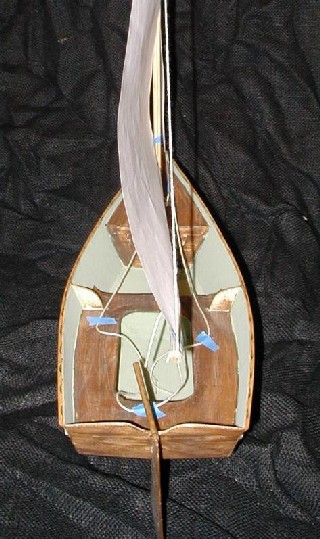 Top of the page.
Back to main page.
---