12 ft skiff Gallery
Summer got busy and I finally got a chance to finish the 12 foot skiff. Attached are pictures from the building phase and out on the water.
First, thanks for the design and the help. This was a great project. On the water, it is drawing only 3 to 4 inches with me, battery and trolling motor. It is a little wobbly side to side but once the chine sets in the water enough, it becomes more stable. Our maiden voyage was on a day were our lake was white capping. It did a good job, but we came in pretty quickly as I wasn't use to the boat yet. The next day was a dead calm, as you can see in the pictures. My wife and I got to explore little traveled water ways because it was drawing only 5 inches of water with both of us.
The battery is in the bow with 6 gauge wire running to the back, where I have a terminal block to attach the trolling motor wires to. I am turning the front seat into a convertible seat so my wife can seat on it or tilt it up so she can sit on the bottom and use it as a back rest. Also, I am going to put a fore deck on it to use as storage.
Vann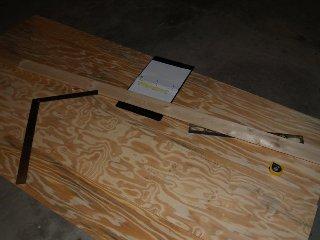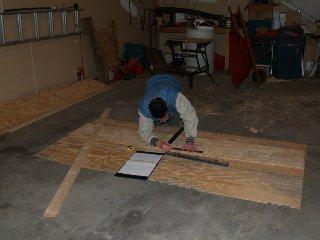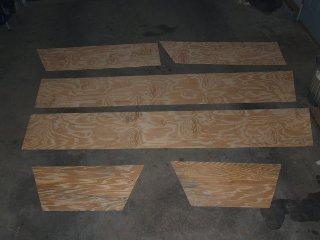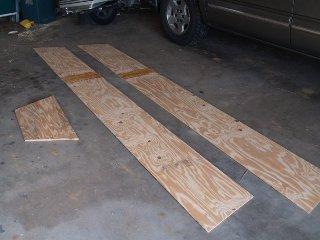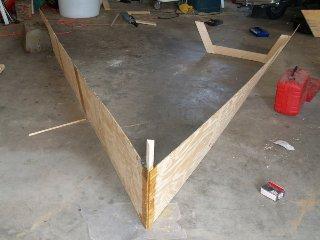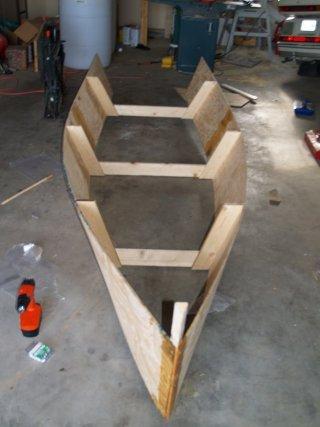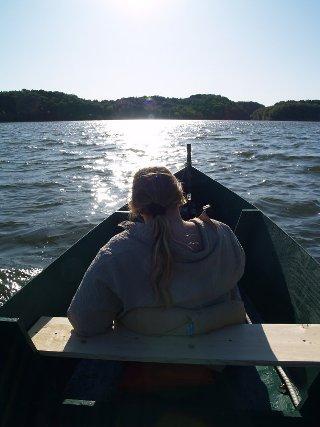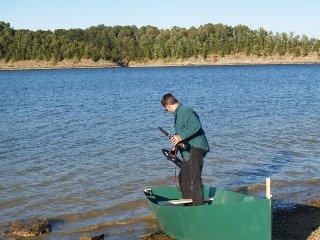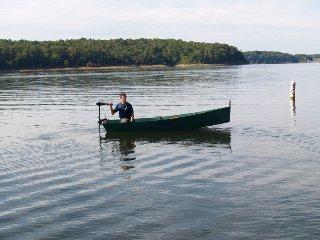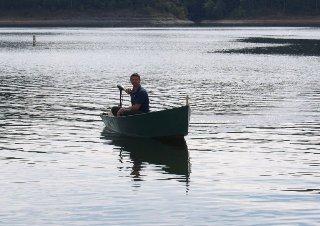 ---
Once again, thanks for a great site. I have finally finished my sailboat using your 12' skiff plans as the basis. Considering it was my first attempt I am pretty pleased with the result. Because the lakes in our area tend to have a lot of old tree trunks under water I reinforced the bottom with 2 strips of plywood down the center. Other changes were mainly for the benefit of the sailing rig. I have attached some pictures. I have had in in the water using a trolling motor and it did fine. Seemed a little tippy, but I had 2 adults and 2 grandchildren in it. I haven't tried out the sailing rig yet. Basically just finished it. Thanks again for a site with a lot of great plans and information.
Jim
Louisville, KY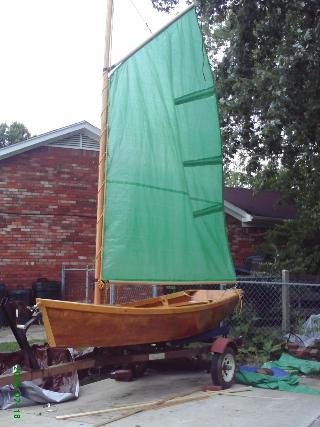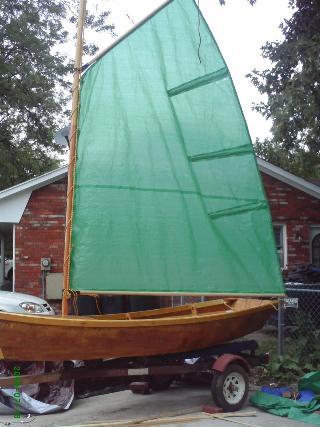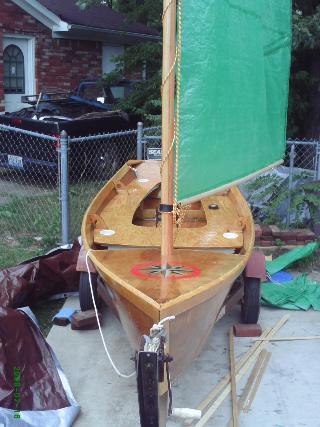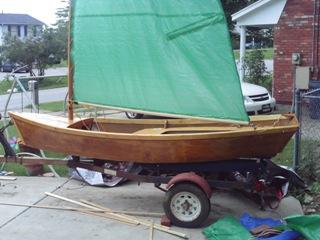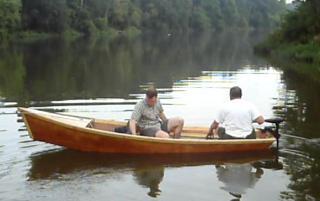 ---
Me and a friend just finished building your 12 ft skiff. It was the first boat either of us have ever made and we had a great deal of fun with it. It is very stable...although we just slapped the seats on at the last second so we really just used them as a table for eating. here are a few pictures if you are interested! We took it out on the water for the first time today for about four hours. we had one small leak that pumped in maybe a gallon of water ever half hour or so. It was very manageable and easily fixed. Other than that it was great and very maneuverable.
alex & phil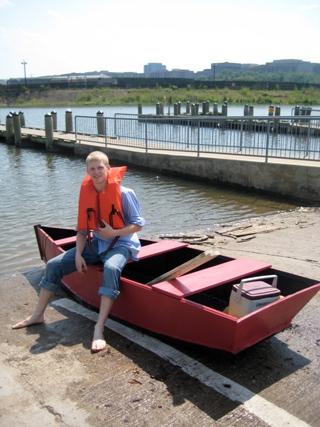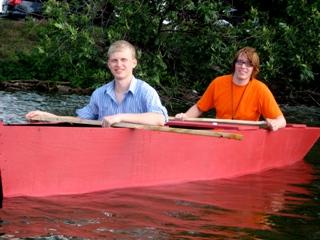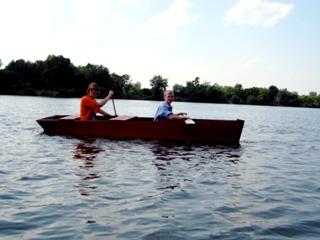 ---
I built the 12 foot skiff thanks to your plans, and did a few modificacions... But after finishing your plans, made a dagger board and rudder, mast, etc.. based on a bunch of pictures i saw. Today i used it as a sailboat for the first time.. and handels great. It also does as a rowboat, haven't used it with a motor because i dont have one.
I wanted to say thank you for putting the designs on the net for free and making them so simple, that way anyone with the sudden interest to build a boat can do it without having to think twice.
I have a few pictures just that i can't send them all right now... I'll send today's pic later:) and it would be really cool if you could put them on the internet page.
It took me about 40 hours to build, including everything about the sail etc..
I hated.. HATED working with fiberglass.... apart from that i had a lot of fun buidling it, a lot of friends came over to help etc...
I have a Hobie cat sailboat 14' since I was 12 and don't think I had as much fun on it ever as I did today on my own built boat. Even though my rudder and center board broke because I forgot to lift them when arriving to the beach.
I'm 17, live in Ensenada, Baja California, Mexico
again thank you
Roberto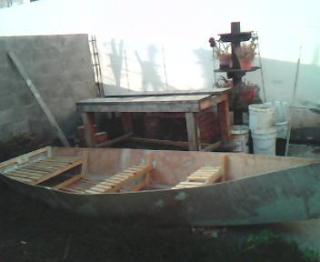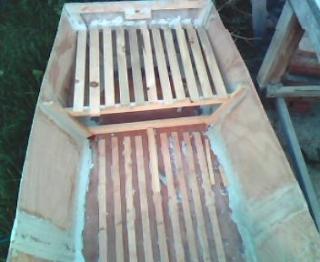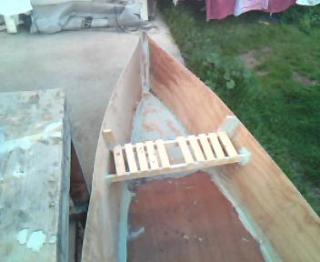 ---
I have just built a 12ft skiff which was my first ever attempt at boat building. I have really enjoyed the process and now have a very useable boat, thanks to you.
I launched it on the local canal for the maiden voyage and 2 of us rowed the boat very easily. I have since launched her in the ocean with a 2hp yamaha outboard and she handles like a dream.
I have had 3 adults in her on the ocean and it was fine on a fairly flat day(slight swell) I wouldnt dream of trying her on a rougher sea than this. My next voyage will be on the river Stratford Avon when I get the licence and I'm sure she will be great for this.
I put the mid seat too far forward which makes it difficult for 2 persons to skull so I will have to adjust this, otherwise she is superb. Thanks for a great set off plans. It only took about 40 hours including paint so I am really impressed by the rewards for so little effort and cost.
I have now ordered plans for a 17 ft cabin cruiser from Glen L marine and I can't wait to get started. Thanks to you I have been well and truly bitten by the boating bug!! Thanks again and good luck
Tony
Evesham UK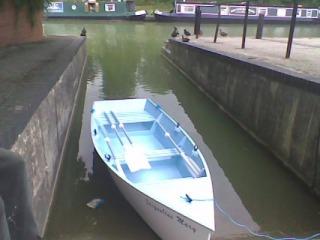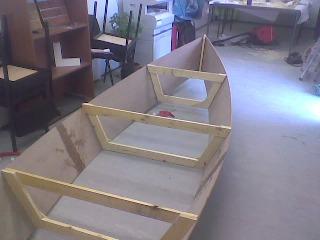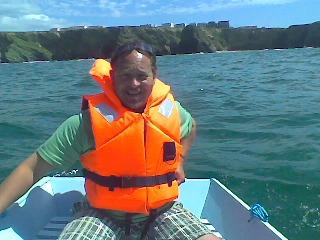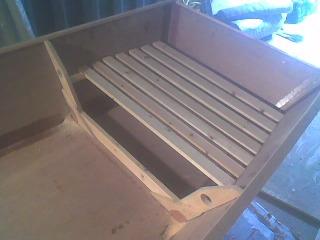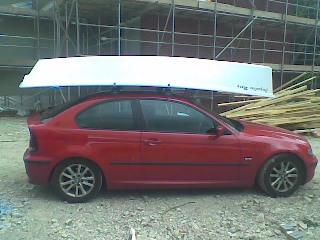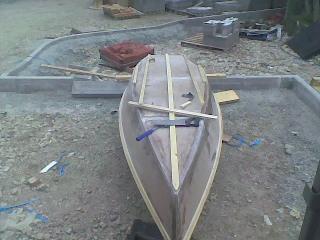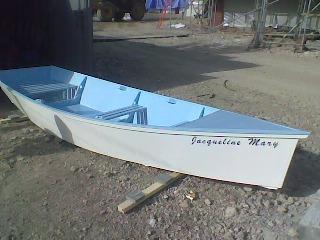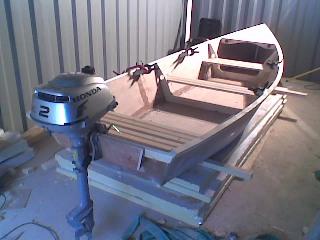 Top of the page.
Back to main page.
---