"HV'S Hattory"
One sheet navy admiral's hattorious hatship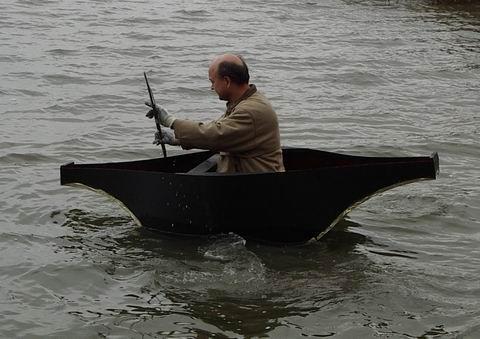 ---
Motto:
A friend told me the one sheet canoe "Dug" looks like "one of the 19th century English admiral's hats, turned upside down".
Well,... I don't think so.
---
Real one sheet hatship construction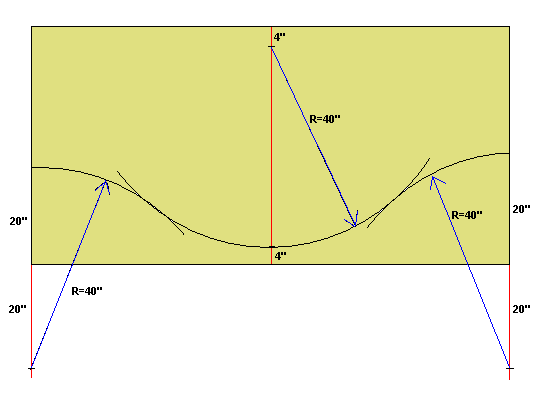 Draw a line in the middle of a sheet of plywood. With the center on this line, 4" from the edge, draw an arc with 40" radius. The plywood should be thin and pliable, it's going to be bent. I'll use 4 mm (5/32") ply.

With the center at the plywood end, 20" from the edge, draw another 40" radius arc.

Draw a third arc to the other end of the ply. All three arcs should meet at quarter plywood intervals.

Cut along the arced line. Flip the edge over, mark the other edge of the ply, and cut along the line.

Cut the side pieces in the middle and rearrange the parts.

Connect the side pieces using screws, glue and butt blocks. The butt blocks shall be 1/2" short on the curved side, 7/8" short on the straight side.

Screw small blocks of wood along the curved edges of the side pieces, every 6" or so, 1/2" from the curved edge.

Screw the bottom ply to the blocks between the sides. It is essential to this design, that the sides extend past the bottom.

Bottom and sides ready.

Glue and screw 4" x 8" transoms to the ends of the hull.

Stiffen the curved sides with curved pieces of 7/8" plank.

Glue the seam between the sides and the bottom piece from the outside.

Paint the inside of the hull dark red, with a silky fabric pattern.

Paint the outside of the hull matt black.

Attach a golden braid to the outer edge of the chine.
| | |
| --- | --- |
| | Now this just might look like a 19th century English admiral's hat turned upside down. |
| | |
| --- | --- |
| | But actually it is the one sheet navy admiral's hattorious hatship "HV'S Hattory" upside up. |
Top of the page.
Back to main page.
---